Ovid Medline Tutorial for Dentistry:
Quiz for Part 10
Sorry -- the answer is actually:
Select the Subject Heading "Dental Anxiety"
So far you've had 0 right answers out of 4.


---
Question 5:
Let's say that you type the term "thumb sucking" and check "Map Term to Subject Heading". Then the Mapping screen gives you two options: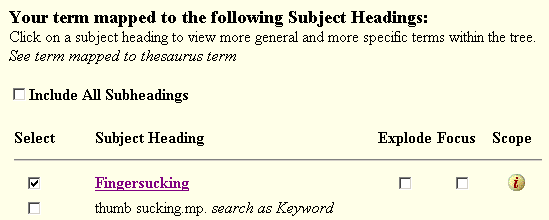 By clicking

, you confirm that the Subject Heading Fingersucking is "Used For" thumb sucking.
If you are doing exhaustive research and want to find everything about your topic, which of the following approaches would be best?


Please click the answer of your choice.

Click here if you want to restart this quiz.

---
Dental Library home page
All contents copyright Margaret Fulford © 2004. All rights reserved.