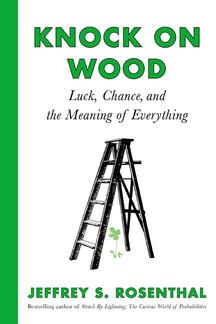 Knock on Wood
Luck, Chance, and the Meaning of Everything
---
Knock on Wood: Luck, Chance, and the Meaning of Everything is a book about the concept of "luck" in its various senses, including such notions as fate / destiny / karma / superstition / astrology / ESP and more, and how we can avoid "luck traps" to discover the truth -- all from the perspective of a professor of statistics. It is being published in Fall 2018 by HarperCollins Canada. See the book's web page at harpercollins.ca or harpercollins.com.
The book is available from amazon.ca (or kindle edition), amazon.com (or kindle), indigo.ca, amazon.co.uk (or kindle), amazon.in (or kindle), Barnes & Noble, Walmart, iBooks, UofT Bookstore, and at the Toronto Public Library and UofT Library. ISBN: 9781443453073.
It went on-sale on October 2, 2018, with a book launch on October 4.
See also the clickable endnotes (pdf), the dust jacket / alt, Knock On Wood on wood, and the publicity activities below.
---
Praise for Knock on Wood (see also the SBL reviews):
"A thoroughly engaging book. Each page provides a charming anecdote illustrating an insight that will make you smile in recognition of a surprising truth. Get this book for yourself but also for family and friends both those who believe only logic, science, and cause and effect have all the answers." -- Michael Adams, president of Environics and author of Could It Happen Here? Canada in the Age of Trump and Brexit and Fire and Ice: The United States, Canada and the Myth of Converging Values

"'Good luck!' Something we say almost every day with best of intentions but little thought. What are we really honouring when we say good luck? Knock on Wood is a must-read for anyone who wants to understand why things happen." -- Darrell Bricker, CEO, Ipsos Public Affairs, co-author of The Big Shift

First amazon review (Oct 6, 2018): "5 stars out of 5. Indispensable Reasoning for Everyone - Beautifully Done. Stumbling upon a book on luck and probability written by a professor of statistics, one might expect to see a lot of formulas and calculations. Well, not in this case. This is a book for everyone - the math phobic included. In prose that is friendly, lively, authoritative, witty and immensely captivating, the author discusses a great many real-world topics from a luck/probability point of view. The topics are quite varied: coincidences, superstitions, sports, lotteries, polling, astrology and religion just to name a few. The author also includes a few snippets from his personal life, giving the book a very special human touch. When discussing a given topic, perhaps some ridiculous superstition, the author does not immediately dismiss it out of hand; he first of all takes a serious look at the associated numbers and logic which then lead him to the obvious conclusion. I enjoyed this book very much, as I did his prior book (Struck by Lightning) and I hope to see more such books in the future from this gifted author. If I could make a small recommendation, perhaps some formulas/technical details could be included in his future books, if only in appendixes; this would more thoroughly illustrate the nitty-gritty elements that could be enjoyed by mathematics enthusiasts like me. An excellent read!"
---
I appeared on "Your Morning on CTV" with Ben Mulroney on Tues Oct 2 (2018) at 8:38 am (see photo1, photo2, video1, video2, youtube), and GlobalTV's "The Morning Show" on Tues Oct 9 at 9:20 am (see video), and CBC Radio's "The Current" with Anna Maria Tremonti on Tues Oct 9 between 9:30 and 10:00 am (see recording and summary, snippet). On Oct 5, I had a Q&A published by U of T (reprinted on phys.org and in Education News), and a related piece published in the Globe and Mail. On Oct 19, I was interviewed on Breakfast Television. Plus I recorded some lottery probability answers for Newstalk 1010 radio.

On Oct 31 between 11:00 and 12:00 ET (12:00 and 1:00 AT), I did a call-in show on CBC Maritime radio (see audio file beginning at the 11:49 mark). I'm giving talks about my new book in the university lecture series in Oakville on Oct 29 (see photo), in Markham on Nov 1, and in Toronto's Bloor Cinema on Nov 7 (see photo, audio). On Sat Nov 17 between 2:30 and 3:00, I will be interviewed live on JOY 1250 radio in Oakville. And on Wed Dec 5 at 5:00, I will give a talk at the Rotman School.

For further publicity announcements, please follow me on Twitter.
---
The book Knock on Wood may be ordered from e.g. amazon.ca (or kindle) or amazon.com (or kindle), or from most bookstores.
See also Jeffrey Rosenthal's previous book and non-research writings and home page.