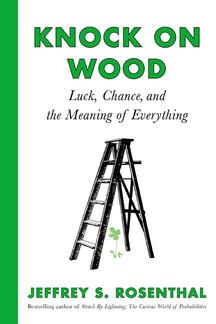 Knock on Wood
Luck, Chance, and the Meaning of Everything
---
Knock on Wood: Luck, Chance, and the Meaning of Everything is a book about the concept of "luck" in its various senses, from the perspective of a professor of statistics. It is being published in Fall 2018 by HarperCollins Canada. See the book's web page at harpercollins.ca or harpercollins.com.
The book is available for pre-order from amazon.ca (or kindle edition), amazon.com (or kindle edition), indigo.ca, amazon.in (or kindle edition), and Barnes & Noble, and at the Toronto Public Library. ISBN: 9781443453073.
It will be available by October 2, 2018, with a book launch on October 4.
See also the clickable endnotes (pdf), the dust jacket / alt, and Knock On Wood on wood.
---
Advance Praise for Knock on Wood:
"A thoroughly engaging book. Each page provides a charming anecdote illustrating an insight that will make you smile in recognition of a surprising truth. Get this book for yourself but also for family and friends both those who believe only logic, science, and cause and effect have all the answers." -- Michael Adams, president of Environics and author of Could It Happen Here? Canada in the Age of Trump and Brexit and Fire and Ice: The United States, Canada and the Myth of Converging Values

"'Good luck!' Something we say almost every day with best of intentions but little thought. What are we really honouring when we say good luck? Knock on Wood is a must-read for anyone who wants to understand why things happen." -- Darrell Bricker, CEO, Ipsos Public Affairs, co-author of The Big Shift
---
Publicity Activities:
I am scheduled to appear on "Your Morning on CTV" on Tues Oct 2 (2018) at 8:38 am, and CBC Radio's "The Current" on Thurs Oct 2 around 10:00 am, and GlobalTV's "The Morning Show" on Tues Oct 9 at 9:20 am.

For further publicity announcements, please follow me on Twitter.
---
The book Knock on Wood may be ordered from e.g. amazon.ca (or kindle) or amazon.com (or kindle), or from most bookstores.
See also Jeffrey Rosenthal's previous book and non-research writings and home page.