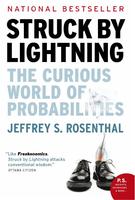 Struck by Lightning: The Curious World of Probabilities
(See also my new book Knock On Wood: Luck, Chance, and the Meaning of Everything.)
---
Struck by Lightning: The Curious World of Probabilities is a book about probability and randomness in everyday life, intended to inform and entertain readers without requiring any mathematics background. It may be ordered from e.g. amazon.ca (or in paperback) or indigo.ca (or in paperback) or amazon.com or amazon.co.uk or barnesandnoble.com, or from bookstores. (It is also available as an e-book for Kobo and Kindle/US and iBooks, in U of T libraries, in TPL, and as a talking book for disabled patrons.) See also the dust jacket and paperback front cover and paperback full cover and U.S. cover and contents and covers collection, some discussion sessions and supplementary materials (see also here), an author bio, a Q&A, and the critical review excerpts and publicity activities below (including television interviews and public talks).
Struck by Lightning was published in Canada by HarperCollins (September 2005 [cover, amazon]; paperback September 2006 [cover, amazon]), in the United States by Joseph Henry Press (May 2006 [cover, amazon]), in Italy by Longanesi ("Le regole del caso: instruzioni per l'uso", June 2006 [cover]), in Australia / New Zealand by ABC Books (July 2006) [cover]), in Slovenia by DMFA ("Ko Strela Udari: Skrivnostni svet verjetnosti", February 2007 [cover]), in Germany / Austria / Switzerland by Eichborn ("Vom Blitz getroffen: Die seltsame Welt des Zufalls", March 2007 [cover]), in Japan by Hayakawa (October 2007 / paperback October 2008 [cover1, cover2, amazon]), in India by Jaico (February 2008 [cover]), in the United Kingdom by Granta (March 2008 [cover, amazon]), in the Czech Republic by Academia ("Zasazen bleskem: Podivuhodny svet pravdepodobnosti", December 2008 [cover]), in Korea by Bupyo (July 2010 [cover]), in Spain by Tusquets ("A cara o cruz: El sorprendente mundo de las probabilidades", February 2011 [cover]), in China by Shanghai Scientific & Technical (February 2013 [cover]), in Turkey by TUBITAK ("Basima Yildirim Düstü! - Olasiliklarin Llginç Dünyasi", 2017 [cover]), and in Traditional Chinese by Streamer/Walkers (2023 [cover]). (There is also a long-term project to privately translate it into Persian and Esperanto.) And an excerpt was published in The Act of Writing, 8th ed.
In Canada, the hardcover edition was published in September 2005, and went into its second printing on October 13, third printing on October 27, fourth printing in November 2005, and fifth and sixth printings in January, 2006. It went as high as #7 on the Maclean's national non-fiction bestsellers list, #9 on the National Post's non-fiction bestsellers list, #3 on the Calgary Herald non-fiction bestsellers list, #29 on the chapters.indigo.ca overall bestsellers list, and #2 (and often in the top 30) on the amazon.ca overall bestsellers list. It was chosen as #8 on the Amazon.ca Editors' Best Nonfiction Books of 2005. The Canadian paperback edition (including an extra "PS Section") was published in September 2006, and reprinted in December 2006, and went as high as #10 (twice) on the Globe and Mail national non-fiction paperback bestseller list, #3 on the McNally Robinson paperback bestseller list, #6 on the Edmonton Journal nonfiction bestseller list, #9 on the Winnipeg Free Press trade paperback bestseller list, #10 on the Canadian Booksellers Association Top Canadiana list, and #53 on the amazon.ca overall bestseller list. And, it was #24 on the Globe and Mail's annual paperback nonfiction bestseller list for the calendar year 2006.
Struck by Lightning (264 pages) discusses the probability aspects of such topics as:
Coincidences -- surprising or not?
Casino games: roulette, keno, craps
Card games: bridge, poker, blackjack
Crime rates and trends
Decision making and utility functions
Interpreting medical studies
From lottery jackpots to terrorist attacks
Public opinion polls and margins of error
Genetics and evolution
Conditional probability and the Monty Hall problem
Using probability to block spam e-mail
Chaos theory and quantum mechanics
It also provides entertainment and fun, including:
Numerous amusing anecdotes and stories (both true and fictional) sprinkled throughout the book.
Connections throughout to simple, everyday examples to illustrate the ideas.
A film noir comedic spoof in which a "Probabilistic Private Investigator" named Ace Spade solves crimes using probability theory.
A mock final exam where readers can show off their knowledge of probability.
---
Critical Review Excerpts for Struck by Lightning
"Statistics and probability made fun, easy and useful for everyday life -- Rosenthal does just that by explaining common uses of statistics (such as polling), demonstrating how probability can lead to better decision making (should you ask your cute co-worker out on a date) and getting downright silly (chapter nine is a noir mystery). The author maintains that our fear of untoward events can be eased with the logic of probability and knowing how to evaluate what the real odds are of such an event occurring. A multitude of applications of 'the Probability Perspective' are laid out: calculating average losses at gambling, deciding which coincidences are truly surprising, understanding studies that show that a new drug reduces fatalities from a given disease, playing silly party games and using uncertainty for one's own benefit. Anecdotes -- some personal stories, some universal situations -- illustrate ways that the probability perspective can set one's mind at ease and help in navigating all aspects of life. The lighthearted presentation ensures that readers will not feel burdened by all the knowledge they are gaining and the concluding summary -- disguised as a final exam -- is sure to deliver an A to everyone, which is what Rosenthal deserves for this clever book."

-- Publisher's Weekly

"Rosenthal, who specializes in statistics, has written a book that explores esoteric and everyday situations through the mathematical microscope of probability and randomness. From game shows to drug trials to whether or not you should ask out a co-worker or worry about your plane crashing, Rosenthal uses math to devise strategies to weather these situations. ... Struck by Lightning should turn the academic into a media-darling. The book, his first, is written in a breezy style. The concepts are well explained with wide and varied examples that keep the reader interested. No doubt we'll be seeing him on future TV panels interpreting election polls or number-crunching obscure batter-stats during World Series. If there's one thing this book proves, it's that Rosenthal is versatile and accessible."

-- Jason Chow, Ottawa Citizen

"Odds are you'll like this Lightning strike. These type of books are so much fun ... anecdotes and examples which will stay with the reader long after the last page is turned. And there are not many books that can manage that feat. Lightning strikes are just the start of an exploration of the odds which confront us all. For the booming numbers of poker players there are numerous studies on when to hold em and when to fold em. And for regular casino-goers, there are the odds of each popular game of chance none of which are ever in the player's favour. But the most fun are those tidbits of probabilities with which you can astound your friends and make some cash if you want to rub your knowledge in their collective faces. ... Amaze your friends, confound your rivals. Buy Struck By Lightning and have some fun."

-- Chris Nelson, Calgary Sun

"Odds are you'll keep reading. ... [Rosenthal] shows how an understanding of probabilities is important to everyday life, from deciding whether to take a flight or buy a lottery ticket to understanding poll results and figuring out how scared to be of increased crime. Writing in funny, easily understandable language aimed at non-mathematicians, he shows how understanding the odds can give us a better idea of how the world works, and help us make better decisions about our lives. ... Rosenthal shows how to apply this kind of 'probability perspective' to a number of common situations ... [and] explains how understanding probabilities will give us insights into gambling, opinion polling, medical studies, the evolution of life and Internet spam. He even writes a pretty good spoof on detective fiction, featuring Ace Spade, Probabilistic Private Investigator. ... Rosenthal's book is a useful primer on probabilities, one that will be clear even to people who haven't cracked a math book since high school."

-- Kurt Kleiner, Globe and Mail

"Even for the math challenged among us, Rosenthal makes numbers understandable. He has written Probability Theory for Dummies, if you will, or a Canadian version of Freakonomics. ... He has likely got English majors lining up for his courses. Rosenthal's goal is to help us all 'make better choices and harness uncertainties for our own purposes.' He succeeds in spades. ... Rosenthal explains with clarity and precision key terms such as p-value ... and the various ways drug trial data can be shaded using various biases in sampling, reporting or publication. Rosenthal's style is highly readable. He explains each principle, illustrates the meaning by way of real life examples, then drives home the point with humorous, sometimes corny anecdotes. ... Numbers and logic and probability are not topics you'd think could be made lively or entertaining. But the probability that it can be done well by Rosenthal is pretty high."

-- Christian Coté, Winnipeg Free Press

"Struck by Lightning is a short, entertaining and highly readable guidebook to learning how to incorporate probability theory into everyday life. Rosenthal creates a breezy mix of direct yet simple mathematical tools for decision making along with explanations for things the non-mathematically minded have always wanted to know, but were unsure how to ask. There is a chapter on why casinos always come out on top (including tips for playing card games), a chapter on how to understand opinion polls (what exactly does 'accurate 19 times out of 20' mean?) and throughout the book there are numerous examples of how common fears can be put into manageable perspective. Rosenthal writes about his topic with such clarity and warmth that even the fiercest math-phobe will feel welcome."

-- Tania Therien, Calgary Herald

"Tear up your lottery tickets. Scrap that plan to visit the casino. This easy-to-read guide to probability by Canadian mathematician Jeffrey Rosenthal quickly illuminates the folly of such activities. But it's not all bad: as he explains, an understanding of probability will also allow us to stop worrying about plane crashes, crime rates, opinion polls, disease and maybe even spam. In a friendly, straightforward prose style that requires no special knowledge of mathematics, Rosenthal focuses on various human activities that illustrate probability theory. One of the most interesting parts is the section on opinion polls. Rosenthal demystifies the jargon ... Most people already know the chances of winning Lotto are slim. But did we know just how slim? Rosenthal points out that the odds are so huge that you are more likely to die in a car accident on the way to the shop to buy the ticket than you are to win the major prize. ... A useful and entertaining read."

-- David Messer, Sydney (Australia) Morning Herald

"Rosenthal educated me quickly on the practical aspects of determining chance. The examples in the book are varied and Rosenthal uses plenty of gaming examples using dice and cards to prove that casinos will always have the edge, albeit a small one. ... Later in the book Rosenthal explores polls and shows how misleading they can be. ... The book is for the novice wanting an easy read layman's version of a complicated mathematical subject. ... Suggested reading for anyone who enjoys understanding, but not necessarily beating the odds."

-- Art Durnan, Science Network Western Australia

"One of the most engaging books on statistics that I've come across."

-- Peter Spinks, The Age (Australia)

"In a world in which the only certainty is uncertainty, Rosenthal is an expert on the random nature of things. Gambling, insurance, crime, game shows, plane crashes, disease and plenty more are deconstructed in this relevant and often irreverent study. Entertaining? You can bet your life on it."

-- The Gold Coast Bulletin (Australia)

"An engaging book about the uncertainty randomness of our lives and how understanding the rules of probability can help us make better decisions. ... a mathematical explanation but also a look at human nature and the delicate balance we strike between wanting surprise and mystery in our lives and hating uncertainty's dark side -- that is, not knowing when our number might be up. Rosenthal's hobby as a comedy performer is evident."

-- Sunday Telegraph (Australia)

"Like your favourite high school math teacher, U of T prof Jeffrey Rosenthal uses entertaining parables to illustrate a range of statistical concepts, from the science of polling to the unromantic nature of coincidences. ... In fact, he has some fun with it. In one chapter about the ins and outs of casino gambling, he writes in pulp fiction style and poses as a detective named Spade. ... It's all a little comforting, really ... most of the things we fret about just ain't worth the sweat."

-- Glenn Garnett, Toronto Sun

"Numbers are fun is the main message of the book, which explains to the layman how to analyze the likelihood of seemingly random events -- crime, plane crashes, winning the lottery -- using a probability perspective, and how to interpret polls and medical studies. Among other things, Rosenthal explains why computers are unable to create true randomness -- they can only fake it -- and why you're more likely to die of a lightning strike in Wyoming than in Rhode Island. It's the kind of entertaining romp, grounded in quotidian anecdotes, that makes you feel a little smarter than you really are."

-- Kate Fillion, Maclean's magazine

"This is the most fun of all the recently released math books ... In these pages, Rosenthal reveals the probability of winning at blackjack, roulette and keno. He shows how statistics are used to track, and interpret, trends. And he explains what it means when pollsters use a disclaimer like, 'accurate within 1.4 percentage points, 19 times out of 20.' Struck by Lightning uses very real examples to illustrate the concepts of randomness, probability and chaos. The TV game show Let's Make a Deal; baseball player Sammy Sosa's 'corked bat incident;' and the rock-paper-scissors game are all in here to help Rosenthal make his points."

-- Diane Dakers, Ottawa Citizen

"Rosenthal's mathematical look at life's seemingly random occurrences is both refreshing and detailed. He advocates using educated decisions and a more pragmatic approach to problem solving, and he does it with a punchy, quick-witted writing style. ... Rosenthal introduces theories ... in accessible, anecdotal, and interesting ways. ... Rosenthal succeeds in bringing mathematical theory to the masses, making it funny ... and highly relevant."

-- Heather Neale, Quill and Quire

"Jeffrey Rosenthal, a University of Toronto statistics professor, understands the role that randomness -- everything from SARS to terrorist attacks to winning the lottery -- plays in everyday life. His book on the subject can't help but have broad appeal. He says that while many aspects of our lives are governed by events beyond our control, if we 'get' randomness, we can harness uncertainty for our benefit."

-- Rebecca Wigod, Vancouver Sun

"Like Freakonomics, Struck By Lightning attacks conventional wisdom. Too many times, we make decisions based on prevailing assumptions or anecdotal evidence when a proper analysis of the numbers would give us a different viewpoint and therefore, a competitive advantage. To prove that things aren't always as they seem, Rosenthal presents a few brainteasers that challenge your intuition. ... Rosenthal applies the laws of probabilities to games such as roulette, poker and blackjack and clearly distinguishes between smart bets and stupid ones. ... When applied to business, Rosenthal's book provides an insight into careful decision-making that puts facts ahead of emotions. It's often a smarter bet to invest in a book that gives you new knowledge over one filled with simple old rules."

-- Mark Sutcliffe, Ottawa Citizen business section

"Another great challenger of conventional wisdom is Struck by Lightning. It helps you figure out the true meaning of political polls, and how to assess randomness in everything from dice throwing to the game Rock, Paper, Scissors. ... extremely well-written and easy to read, with fascinating anecdotes and examples. ... I found the chapter on the probabilities in all of the games of chance to be particularly fascinating."

-- David Christianson, Winnipeg Free Press business section

"Guaranteed not to bore you ... Rosenthal is a light-hearted and entertaining writer. He reveals quirky numerical facts that may surprise you. ... If you're struck by the role of luck and coincidence in life, you'll find Rosenthal a good guide to what can be predicted by the law of averages."

-- Ellen Roseman, Toronto Star business section

"Easily the most fun you can have with a statistician in the room. ... In a tone that's casual but informed, Rosenthal imparts his love for numbers in such a way that it hardly registers that we are learning some pretty esoteric stuff. ... a great book for the interested dilettante, facilitating a deeper understanding of our world and the numbers that determine so much around us."

-- Paul Bachmeier, National Post

"Rosenthal ... dimostra di essere un abile divulgatore e il suo obiettivo è quello di portarci a scoprire le regole del caso per applicarle nelle scelte che ogni giorno dobbiamo fare in un mondo sempre più complesso. Terrorismo e criminalità, ricerche farmaceutiche e lotterie, elezioni e sondaggi sono alcuni dei tanti temi trattati da Rosenthal in modo chiaro e convincente. Non è necessaria alcuna conoscenza matematica per seguirlo nel suo percorso curioso e intrigante. [Rosenthal ... shows himself to be a clever popularizer, whose goal is to help us understand the rules of chance so that we can apply them to the choices we have to make every day in an increasingly complex world. Terrorism and crime, pharmaceutical research and lotteries, elections and polls are just some of the many topics Rosenthal covers in a clear and convincing manner. No mathematical knowledge is needed to follow him on his curious and intriguing journey.]"

-- La Stampa newspaper (Italy)

"Il testo è stato pensato non tanto per il matematico, quanto per una persona con un normale livello di cultura. Questo significa che le formule sono ridotte all'osso, e le dimostrazioni sono inesistenti: ci si limita a dare i risultati insieme a una loro spiegazione qualitativa, per dare al lettore un'idea di cosa è davvero in gioco. Sono presenti molti esempi, che vengono introdotti sotto forma di raccontini che potrebbero essere tratti dalla vita reale: il loro stile colloquiale e le situazioni a volte buffe in cui i protagonisti si ritrovano hanno un loro fascino. [The book is aimed not at mathematicians but at people of average education. This means that formulas are reduced to the bare bones, and mathematical proofs are nonexistent: the results are given along with a qualitative explanation that gives the reader an idea of what's really at stake. There are lots of examples presented in the form of little stories which could be taken from real life: their colloquial syle, and the sometimes comical situations in which the characters find themselves, are fascinating.]"

-- Italian Wikipedia

"Rozenthal's wunderbar lebendig und anschaulich geschriebene Einführung in die «seltsame Welt des Zufalls», der auch Nichtmathematiker problemlos folgen können. [Rosenthal's wonderfully lively and vividly written introduction to the strange world of "Random", which non-mathematicians can easily follow.]

-- Oliver Pfohlmann, Berner Zeitung (Switzerland)

"Rosenthal, a Harvard math PhD and a professor of statistics at the University of Toronto, makes statistics come alive with colourful writing and everyday examples of how uncertainty affects our lives. ... In a world where events often seem to be spinning out of control, Rosenthal makes a convincing case that we should embrace randomness, and his book is a great primer for how to do it."

-- Alex Roslin, Amazon.ca Editorial Reviews

"Rosenthal's lucid and engaging book offers even those who are mathematically challenged a chance to learn the "probability perspective" - how to think rationally rather than emotionally about randomness. ... essential reading for politicians and journalists. An excellent primer on probability."

-- PD Smith, The Guardian

"How likely are you to be struck by lightning, win a lottery, or die in a plane crash? Professor Jeffrey Rosenthal not only wonders those things but also researches the answers. His passion for mathematical probabilities sparkles in this entertaining and informative read."

-- Jim Romahn, The Banner magazine

"Jeffrey Rosenthal's delightful book will enhance your feelings for probability and its odd relevance to so many aspects of life. If you read it, you will almost certainly not be struck by lightning."

-- John Allen Paulos, author of Innumeracy and A Mathematician Reads the Newspaper

"Read Struck by Lightning and you will read a book by your favourite professor, the one who made a difficult subject easy to understand by illustrating insights with practical examples from the world around us. In this highly entertaining book, Jeffrey Rosenthal reveals the mysteries of probability and statistics including those ubiquitous public opinion polls and explains mathematical reasoning in ways we can apply in our daily lives -- a rare feat. I guarantee your chances of enjoying this book are plus or minus 5 per cent at least 19 times out of 20."

-- Michael Adams, president of Environics and author of Fire and Ice: The United States, Canada, and the Myth of Converging Values; Sex in the Snow: Canadian Social Values and the End of the Millennium; and American Backlash

"The prose is easily digestible and liberally laced with quirky references to the pop culture canon of Star Wars and The Simpsons. Chapters, nicely structured around themes like casino odds or randomness in evolution, are carved up by little sidebars containing parables on the applications of probability theory, including a fictional poker hand that should have the nouveau poker set taking notes on when to bet and when to fold. A section in the middle ... breaks up the non-fiction prose with a short narrative about a detective (appropriately named Ace Spade) who uses probability theory to bust some charlatans at the local casino."

-- Joseph Wilson, Now magazine

"Supermodel Kate Moss isn't the only one who has gambled on a roll of the dice and lost. ... Fate, random accidents and coincidence can largely be explained by math. If that sounds like Greek to you, try Struck by Lightning: The Curious World of Probabilities by Jeffrey S. Rosenthal, an engaging and readable math whiz."

-- Elle Canada magazine

"Numbers have been kind to this statistician. ... Rosenthal's lively and humorous style has made him popular with students, and ... also powered his bestselling book, Struck by Lightning: The Curious World of Probabilities, in which he sheds the scholarly style of his academic work and shows the average person the extent to which probabilities determine one's fate. From this lively book comes our selection."

-- R. Conrad, The Act of Writing

"Rosenthal takes a relaxed, easy-to-follow look at chance -- and explains how chance can be less of a 'risk' than you might think if you understand the theory behind probability. Set your mind at ease about serial killers, scare yourself away from ever gambling again, or learn to recognize when the rewards are worth the risks, and you might find your life is a lot mellower when you're not worrying about being struck by lightning or any of the other catastrophes the news screeches about nightly. Rosenthal smoothly soothes some of our everyday fears without taking the magic out of life's little oddities. Definitely a fun -- not to mention useful -- read."

-- Lisa Yanaky, The Book Brothel

"This is a good, fun, breezy, quick-read popular math book. ... Rosenthal uses a clear and light-hearted presentation, heavy on humour and light on equations, with lots of examples to make each topic come through as clearly as possible. ... Any academic library that carries any popular science would do well to get this book, as would really any public library."

-- John Dupuis' science librarian blog

"I love books like this! I saw this one, browsed through it a bit and bought it right away because it looked very good -- it was. I can confidently say that this is one of the best books of its type. The author explains, in very clear language, the nature of probability and its use in understanding some of the many areas in everyday life that could otherwise remain very obscure or misunderstood. The topics covered include gambling games and methods, the ways casinos operate (this may be very surprising to many), card games and strategies, pre-election polls, certain game shows, the war against spam, weather prediction, and many other areas where probability plays a key role. The author, an expert in the field, writes very well and in such an engaging and often humorous style that the book is almost impossible to put down. Those who read this book will understand a bit more about how the world that we live in actually works. I highly recommended this book to everyone!!"

-- amazon.ca on-line customer review
See also the FirstLook reader reviews, and some media articles which mention me (and UofT ones).
---
Because of the success of my book, I ended up doing a surprisingly large number of publicity activities (lectures, media interviews, etc.), as follows. (For a quick sense of the content, see e.g. this radio interview or this one, or these television interviews and talks.)

(My book also led to a number of paid speaking engagements, not listed here; and to a number of media articles which mentioned me.)
2005:
On September 25-26, 2005, I was in Vancouver, participating in the Word on the Street festival and a Talk of the Town interview (see mp3 audio file). I was also interviewed on Vancouver CityTV's Breakfast Television and on Fanny Kiefer's Studio 4 (see video files).

I appeared on ROB TV's SqueezePlay on Friday Sept 30 (see video file), and on Toronto CityTV's Breakfast Television on Monday Oct 3 (see video file). Plus I recorded some author videos with the publisher.

Also, the Toronto Star published excerpts from my book in their Ideas section on Sunday Sept 25, and an article about me in their news section on Saturday Oct 8. Another article appeared later in the Calgary Herald, and another one in Maclean's.

I was interviewed live on CBC Radio's national program Sounds Like Canada on Thursday Oct 13 (see mp3 or wav file). And, my pre-recorded interview for the Dini Petty Radio Show was broadcast on 1050 CHUM radio (Toronto) on Friday Oct. 14 (repeated Sunday Oct. 16). I was interviewed live on Wednesday Oct. 19 on 1290 CJBK radio's Megan & Morris in the Morning in London, Ontario, and on October 31 on Newstalk 610 CKTB radio in St. Catherines, Ontario. And I was the after-dinner speaker at a Privacy and Security Workshop pre-conference dinner on Nov 2.

On Wednesday Oct 26 I was interviewed seven times about the huge ($54 million) Lotto 6/49 jackpot: live on Global News Morning just after 8:00 a.m.; for Global News (Ontario) (at a lottery ticket kiosk) from about 11:20 - 12:10; live on City Online from 12:35 - 1:00 p.m.; for CityTV News at 3:00 p.m. (see summary); for Global News (National) at 4:00 p.m.; live on CBC radio's Here and Now at 5:50 p.m.; and live on 640 AM radio's Mike Stafford show at 6:50 p.m.; not to mention teaching a two-hour class. All in all, a busy day! The next morning at 8:20 a.m. was an eighth interview, live on 1290 CJBK radio's London in the Morning.

On Nov 15, my book was the subject of a panel discussion on UMFM radio at the University of Manitoba.

From 4:00 to 6:00 p.m. on Friday Nov 18, I was the "house guest" on CBC radio's Here and Now. And I gave a U of T Reading Series presentation at Hart House on Monday November 21.

In the midst of all this, I appeared in a Radio-Canada television piece (in French) about the Serial Diners.

On Nov 30, I recorded a short CBC Commentary radio piece, which aired the following morning. On Dec 1, I recorded an interview for CBC's Quirks and Quarks which aired on Dec 17 (see mp3 audio file). Plus, on Dec 2, I recorded some short probability pieces for Daily Planet on Discovery Channel (Canada), which aired the second week of January (see streaming video #1, #2, #3, #4, #5).

I appeared live on TVO's More to Life on Friday Dec 9 (see video file), and spoke at the Nicholas Hoare Books & Brunch event on Dec 11.

The afternoon of Monday Dec 12 I did a total of eleven radio interviews (by phone; some live, some taped) with various CBC affiliates across the country (Calgary, Thunder Bay, Ottawa, Charlottetown, Halifax, Saint John, Edmonton, Vancouver, Yellowknife, Montreal, and Victoria).

On Dec 13 I recorded an interview for the Gregg and Company television show on TVO (see video files), which aired on Jan 11. Just after 9 pm that same evening, I was interviewed on the television program To The Point with Jim Chapman in London, Ontario.

I was also mentioned in quite a number of media articles.
2006:
In the run-up to the January 2006 Canadian federal election, I did a number of live radio interviews about election polls: at 6:40 a.m. on Thursday Dec 22, 2005, by Andy Barrie on CBC radio's Metro Morning; at 8:15 a.m. on Tuesday, Jan 3, 2006, on CBC radio's Ontario Morning; and at 9:15 a.m. on Wednesday, Jan 11, on 570 News's Jeff Allan show in Kitchener. I was also the lead subject of a Toronto Star article about opinion polls.

From 12:30 - 1:30 on Thursday Feb 16, 2006, I participated in a Keep Toronto Reading event at the Toronto Reference Library (Asquith Room). On March 3, I gave a talk at Nelson Mandela Park public school. On Monday March 6 from 2-3 I appeared live on a TVO's More to Life panel about scientific icons. On April 30 I was the lead subject of an article about lotteries in the Toronto Star. I did regional CBC radio interviews about lotteries on May 4 (Sudbury), 5 (Windsor), and 9 (Thunder Bay), plus a Global Television interview on May 5.

On Saturday May 13, I spoke to the U of T International Alumni Council Assembly. On Tuesday May 16, I was the after-dinner speaker at TechKnowFile. On Saturday May 27 from 4:30 to 5:00, I was a live studio guest on the Tabby Johnson Show on Newstalk 1010 CFRB radio. On Thursday June 1, I spoke at the celebrate University College authors event.

In June 2006 I did a round of U.S. radio interviews: June 15 live at 9:05 a.m. on WBAL in Baltimore; June 22 live at 8:10 a.m. on 55KRC in Cincinnati; June 27 live from noon to 1:00 Central Time (1:00 to 2:00 p.m. Eastern) on KERA 90.1 in Dallas; June 28 recorded for Groks Science Show (which aired in September); June 29 live at 10:00 a.m. Central Time (11:00 a.m. Eastern) on Wisconsin Public Radio (see mp3 or streaming audio file); and June 30 at 10:30 a.m. (Eastern Time) on 700 WLW. I was also interviewed by Entrepreneur magazine in the U.S., and by Good Medicine magazine in Australia.

On July 24, I was interviewed live on the Around the House show on 1320 AM radio in Jacksonville, Florida. And on Aug 6, my book was discussed and excerpted on the Italian radio program Un libro tira l'altro.

I also did some Australian radio interviews: on July 31 for an Australian podcast, on Aug 23 with Alchemy, on Sept 6 with ABC Hobart, on Sept 7 with ABC Canberra Drive, on Sept 8 with ABC Perth morning show, on Sept 12 at 10am (local time) with ABC Gold Coast Queensland, Sept 13 at 9:30pm (local time) with ABC Melbourne, and Sept 29 at 7:20pm (local time) with ABC Wollongong.

On Tuesday September 19, 2006 at noon and again at 7:00 p.m., I spoke at the Hamilton Public Library central branch. Then on Tuesday Sept 25 at 7:00 pm, I gave a public talk about probabilities at the University of Prince Edward Island. Earlier that day, I was interviewed for CBC Charlottetown radio, and for CJRC Ottawa radio (in French). The next day I was interviewed for CTV Atlantic Canada's show "Live At Five". On October 4, I was interviewed on CBC radio's Metro Morning about a "double" lottery win.

On Tuesday Oct 10 at 7:30 pm, I spoke to the Natural Philosophers group in the U of T physics lounge. On Wednesday Oct 11 at 1:15 pm, I spoke to the Council of Jewish Women, in Toronto. On Tuesday Oct 17 at 5:00 pm, I gave a public lecture at the University of Western Ontario in London, Ontario, and did a live interview with John Wilson, AM980 radio CFPL, London the next morning. On Thursday Oct 26, I recorded an interview on Radio New Zealand's Ideas. On October 29, I presented at the Free Sunday Science lecture series of the Royal Canadian Institute (RCI) (see streaming video or zip file), later broadcast on TVO (which may be the lecture recorded here).

Meanwhile, I wrote a book review published in the Globe and Mail on Oct 14, 2006, and researched and recorded some "What Are The Odds" educational video shorts for the Discovery Channel (U.S.A.) New Media division (see e.g. here and here), shot on Oct 16, 2006 [later sort of posted e.g. here and here, and also available for purchase as a DVD set].

I also gave U of T Senior Alumni talks on March 29, April 17, April 18, October 24, and October 26, 2006; and University Lecture Series talks on March 16 and October 27, 2006.

Lottery Retailer Scandal: I did the statistical analysis about "insider" retailer lottery wins for the Fifth Estate television episode that aired on CBC TV Oct 25, 2006 (see my analysis). That story in turn led to loads of newspaper articles, see for example here and here and here and here (and scans #1, #2, #3, #4, #5, and even in Spain), as well as Ontario legislature debate #1 and #2 and #3 and #4, and a Freakonomics blog entry, and I later wrote an article for the RCMP Gazette (also translated into French and reprinted in Convergence). It also led to my doing lots of other media interviews, including with: the AM 900 Hamilton Roy Green show (twice!); CityTV News; Radio-Canada Television News (in French); Global Television News; the Toronto Star; AM 640 Toronto radio; the Toronto Sun; the Mike Stubbs show on NewsTalk 1290 CJBK in London, Ontario; Sun TV; and Vancouver's CKNW radio (and later CTV National News on March 26, 2007, and John Wilson, AM980 radio CFPL, London the next morning, and much later CBC World Report on Nov 3, 2007). (Later consequences included an Ombudsman's investigation, the firing of the OLG's CEO, significant lottery policy reforms, repayment of some customers' lottery winnings, and several arrests of insiders for lottery fraud.) Later on, in mid-2007, I did a similar analysis for the Nova Scotia Gaming Corporation (see my final report). And in early 2009 I did yet another similar analysis, for a CBC TV National News story about Western Canada retailer lottery winners (see my report). Later related U.S. investigations found similar fraudulent retailer lottery wins in California and in Texas and in Florida and Boston and Atlanta and Indiana and in Iowa. My overall involvement was nicely summed up in this article, and I later wrote my own detailed review article.
2007 and Beyond:
In 2007, on January 10 I spoke at the ICES rounds. On January 19 I spoke to math students at Crescent School. On April 4, there was another large ($38 million) Lotto 6/49 jackpot, and I did lottery interviews with City TV News, CityOnline (with host Ann Rohmer and fellow guest John Tory), and CBC TV Toronto News. On May 15, I was interviewed about lotteries and probabilities on AM 900 CHML radio (Hamilton). On June 8 I gave a Distinguished Speaker Series lecture in Halifax.

In 2008, I had a few further interviews/events. On March 19, I was interviewed on BBC Radio's Up All Night. Then on April 2 at 7:00 pm, I gave a public lecture at the Perimeter Institute in Waterloo (see video files). On April 24, I spoke at U of T's Take Our Daughters and Sons to Work event. On June 23 at 3:48 pm, I was interviewed on AM800 CKLW Radio in Windsor. In late August, I was interviewed on a Marketplace radio piece about game shows. On Nov 20, I spoke to math teachers at Branksome Hall. I was interviewed by Noah Richler for the CBC Radio Ideas program of Dec 9. And I was a panelist on the BBC World Service The Forum program recorded on Dec 17.

In 2009, I did live interviews about probability for rem.fm radio (Spain) on Jan 29, and about luck on WNYC public radio (New York) on Feb 6 (see segment). And I was the featured author at the University College book club on Feb 26. Plus I gave book-related talks at the University of Toronto on Oct 24, at the University of Manitoba on Nov 9 (see article), and at the Université de Montréal (in French) on Nov 12.

In 2010, I was interviewed on CBC Radio's Fresh Air at 8:30am on Sunday Jan 24. I was briefly written up in University Affairs magazine. Also, an article about pedestrian deaths quoting me appeared in Metro News (front page, Jan 29) and in the Toronto Star (Jan 30). On Feb 12, I did an interview for later broadcast about lightning for a Discovery Television documentary, and also one about probabilities for an ABC Radio (Australia) science show. On Feb 25, I did an interview for Global Television News about lottery probabilities. I gave a book-related talk at the UNLV Forum on Feb 18 (see Vegas Seven article), and another at CFI Ontario on April 16 (see youtube video or Quicktime).

I was interviewed in April, 2010 for the documentary television series William Shatner's Weird or What episodes which were broadcast on Oct 13 and Oct 20 (see youtube1, Quicktime1, youtube2, Quicktime2). I was interviewed on May 30 for a French-language radio segment about statistics (see my segment, full audio, web link). And, I gave public lectures at U of T on Wed Oct 20 (see article1, article2, slides) and at Harvard on Sat Nov 13 (see article).

In 2011, I was interviewed by CityTV on March 14 about lottery prize location probabilities, and by CBC North (Yellowknife) on March 22 about coincidence probabilities. I spoke at the Ontario Association for Mathematics Education (OAME) conference in Windsor on May 12 (see photo1, photo2, photo3, photo4), plus did a radio interview with CBC Windsor the same day. I did an interview for the podcast Skeptically Speaking on July 7. I also wrote a brief for a Supreme Court of Canada case.

In 2012, I did an interview with Mary Ito for the CBC radio show Fresh Air about probabilities on Jan 7 (see audio file), and again about the mathematics of music on July 8 (see audio file). I spoke to over 500 students at Upper Canada College on Feb 6, and to over 400 high school students at Convocation Hall on Feb 22. I gave an IMA public lecture in Minneapolis on April 25 (see postcard), and the Seymour Geisser Distinguished Lecture the next day (see poster). I also appeared in a Cadbury Caramilk commercial (youtube, mp4). I did an interview about lottery probabilities for CBC Winnipeg on July 6. I was interviewed about violent crime for CFRC radio's Extended Frequency program of Aug 3. I was interviewed about algorithms for CBC radio's The Sunday Edition program of Oct 14 (see audio).

In 2013, after several quiet months, I gave a number of additional general-interest talks, as follows. April 10: U of T Senior Alumni "Canadian Perspectives" talk. May 18: U of T TEDx talk (15 min; see youtube, mp4 (265M)). May 25: SSC Student Conference keynote talk in Edmonton. May 26: public talk at the SSC Conference in Edmonton (see photo1, photo2, photo3). May 31: University College Alumni talk. June 10: Problem Gambling Institute talk. Aug 2: New Researchers Conference talk in Montreal. Aug 5: JSM Intro/Overview talk in Montreal. (Plus Aug 6: JSM research talk in Montreal.) Oct 10: keynote talk, Canadian Institute for the Administration of Justice (see program). Nov 8: Treehouse Talk (see video). Plus in March I computed some basketball statistical analysis and probabilities (see video, bracket) for TSN television station, including television and radio interviews. Late in the year, I also did some interviews with CBC and Toronto Star and Global Television (see video) and CTV News.

In 2014, on February 12 I was the opening keynote speaker at a National Judicial Institute conference in Quebec City. On March 7 I was interviewed about lottery probababilities by CTV News. On March 16 I was interviewed about luck and superstituion on the CBC radio show Fresh Air. On May 21 I was interviewed for a Toronto Star article about NBA lottery probabilities, which was also featured on the Arts & Science page. On June 7, I gave a talk to judges in Gimli, Manitoba. On July 18, I was the opening keynote speaker at the annual conference of the justices of the Supreme and High Courts of Ireland. On November 12, I gave a talk to U of T Alumni (see youtube1, youtube2). I did some statistical analysis about World Series waiting times for Sports Illustrated, Nov 2014, p. 64. On December 3, I was interviewed on the TastyTrade network (see youtube). And on December 5, I gave a public talk at the Canadian Mathematical Society annual meeting.

In 2015, on February 27 I gave a public talk at the University of Winnipeg (see Winnipeg Free Press article). On March 14 (for Pi Day), I was interviewed for CBC Radio twice, once for Fresh Air (see audio file), and once for Definitely Not the Opera (see audio1, audio2, podcast). And on April 30, I will give the opening talk at the OMBI meeting in Ottawa. In 2016 I was the AMSI-SSA LECTURER in Australia, which involved given 10 lectures in 6 different cities, and also doing lots of Australian media interviews. I also did a little statistical consulting for the NHL. In 2017, I gave the Warwick Public Lecture in Mathematics and Statistics, and a University of Toronto Spring Reunion alumni talk, and a Statistics Advanced Placement scoring evening talk in Kansas City, plus I was interviewed twice for Research2Reality. In 2018, I was interviewed for Macleans Magazine and Today's Parent about children's safety. I gave a talk about rhetoric in SBL at ISBA 2018 in Edinburgh. And, I gave a public lecture at the Vancouver JSM on July 30. And I gave interviews about Ontario election polls to U of T News, on BNN Bloomberg, and interviewed by the Globe & Mail about birthday probabilities.

Then, in October 2018, I published a new book, Knock On Wood.
---
The book Struck by Lightning may be ordered from e.g. amazon.ca (or in paperback) or amazon.com or amazon.co.uk or barnesandnoble.com, or from most bookstores. See also Jeffrey Rosenthal's non-research writings and home page.