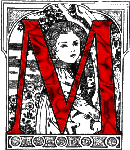 Margaret Fulford's Home Page
I'm the University College Librarian at the University of Toronto. I created the Canadian Women Film Directors Database / Base de données sur les réalisatrices canadiennes.

I've also worked at the Canadian Women's Movement Archives, the Music Library of the Canadian Broadcasting Corporation, the Toronto Reference Library, and the Canadian Health Network. I edited The Canadian Women's Movement, 1960-1990: A Guide to Archival Resources (ECW Press, 1992), and I co-developed the subject thesaurus of the Canadian Radio-Television and Telecommunications Commission (2001). When I was Faculty Librarian at U of T's Dental Library, I created the web resources How to Research Your Dentistry Essay and Ovid Medline Tutorial for Dentistry.

I've created some interactive quizzes about women in the movies -- please try them!

For fun, I've put together a list of my favourite movies and a list of Canadian movies I recommend.

And, I've compiled two sets of quotations I've taken from works of fiction set in Toronto: Toronto in Fiction and U of T in Fiction.

E-mail: margaret.fulford@utoronto.ca.
---
MANY THANKS to Jeff Rosenthal (my husband).