Part 2: Getting started
A. Selecting a database
From the Ovid Welcome screen for your library, just click "Start Ovid":

Then you'll see a list of Ovid databases, include the MEDLINE databases: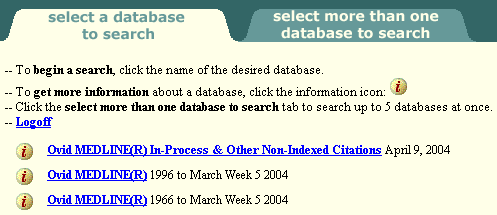 MEDLINE started in 1966, and new articles are being indexed all the time. To search from 1966 on, click the link that looks something like this:

(The final date you see will be later than the one shown here, since the date changes regularly.)
You will also see a link that looks something like this:

If you only wanted recent articles, you could click this link, to search from 1996 on.
(Other date ranges are available as well, by clicking "select more than one database to search".)
Don't be misled by the final date given in the link. In the example above, "March Week 5 2004" refers to the date when the indexing was done -- NOT the date when the articles were published.
A new article isn't indexed in MEDLINE the moment it's published -- and some journals get indexed faster than others. So if a dentistry article was published in March, it might appear in MEDLINE by April, but on the other hand it might not appear until October or even later.
Luckily, there is a separate database called MEDLINE In-Process for recent articles which have not yet been indexed in MEDLINE:

Very soon after an article is published, basic information (like title and author) is added to MEDLINE In-Process, often along with an abstract. Then later, when the article is fully indexed (with Subject Headings, etc.), it's moved from MEDLINE In-Process to MEDLINE.
So if you want to find the very latest articles, then in addition to searching MEDLINE, you should also do a separate search of "MEDLINE in Process".
TIP:
What about pre-1966 articles?

MEDLINE only goes back to 1966. For older dentistry articles, try the printed Index to Dental Literature.

You can also try the precursor to Medline, the printed Index Medicus. And the U.S. National Library of Medicine is gradually putting Index Medicus online, as OLDMEDLINE. (As of 2004, the years 1951-1965 are online.)
---
Next:
Part 2: Getting started (continued)
B. The main search page

---